1200hp, 6x6,
Hennessey Mammoth

.... What?

Fiat Chrysler's special vehicle customization team has been up to some very interesting stuff lately! Their latest addition to the Hennessey line up is this absolute Mammoth of a truck!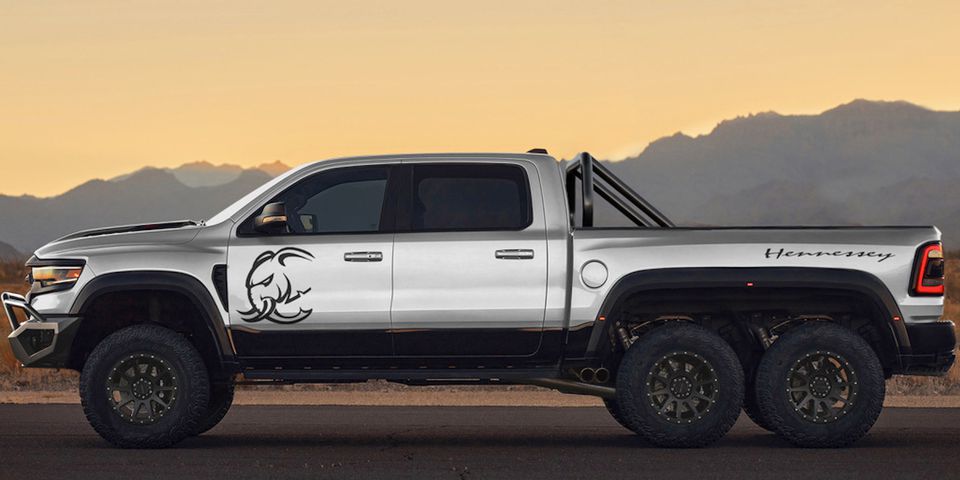 This fully customized Dodge Ram 1500 TRX by Hennessey brings a whole new meaning to the term "Jacked Up, Pick Up Truck". Hennessy is calling this truck the Mammoth! Not only is it a 6x6 off road monster, it packs a seriously impressive powerplant under the hood!
Hennessey has built some of the most exclusive vehicles ever produced including the VelociRaptor 6X6 and the Goliath 6X6! This Ram Mammoth is going to be the most powerful and exclusive model yet! Powered by the 7.0L Hellephant crate engine that showed up at SEMA last year, making 1,000 horsepower. Hennessey is adding their own flair to the Hellephant engine and after they're done with it, it will push closer to 1200Hp. And we all thought the Hellcat engine was impressive...
In addition to its all new 6-wheel drive and all new truck bed conversion, MAMMOTH 6X6 will have a fully upgraded off-road suspension, bespoke interior, upgraded front and rear bumpers with upgraded LED lights and more!
Hennessey will only be producing three examples of this 6X6 monster truck and I bet your thinking to yourself how much would something like this cost? Well... try a cool half million USD... Yep, $500,000. Hennessey started accepting orders on September 4th of 2020.
Unfortunately we wont have this extremely exclusive truck available for sale here at Gauthier Chrysler. That said, the Mammoth is based off our all new 2021 Dodge Ram TRX that will be arriving in late 2020 and early 2021! The TRX is going to be packing upgraded interior and suspension features as well as the 702Hp - 650 lb-ft Hellcat engine! For more information do not hesitate to reach out to us!
We look forward to hearing from you!