WELCOME TO OUR SERVICE CENTRE
Gauthier Chrysler Dodge Ram Jeep service department is ready and able to service vehicles of all makes and models. But if you're looking to service your Chrysler, Dodge, Jeep, or Ram, we are the experts in Winnipeg!
MOPAR Service Offers
Exclusive Promotions & Rebates.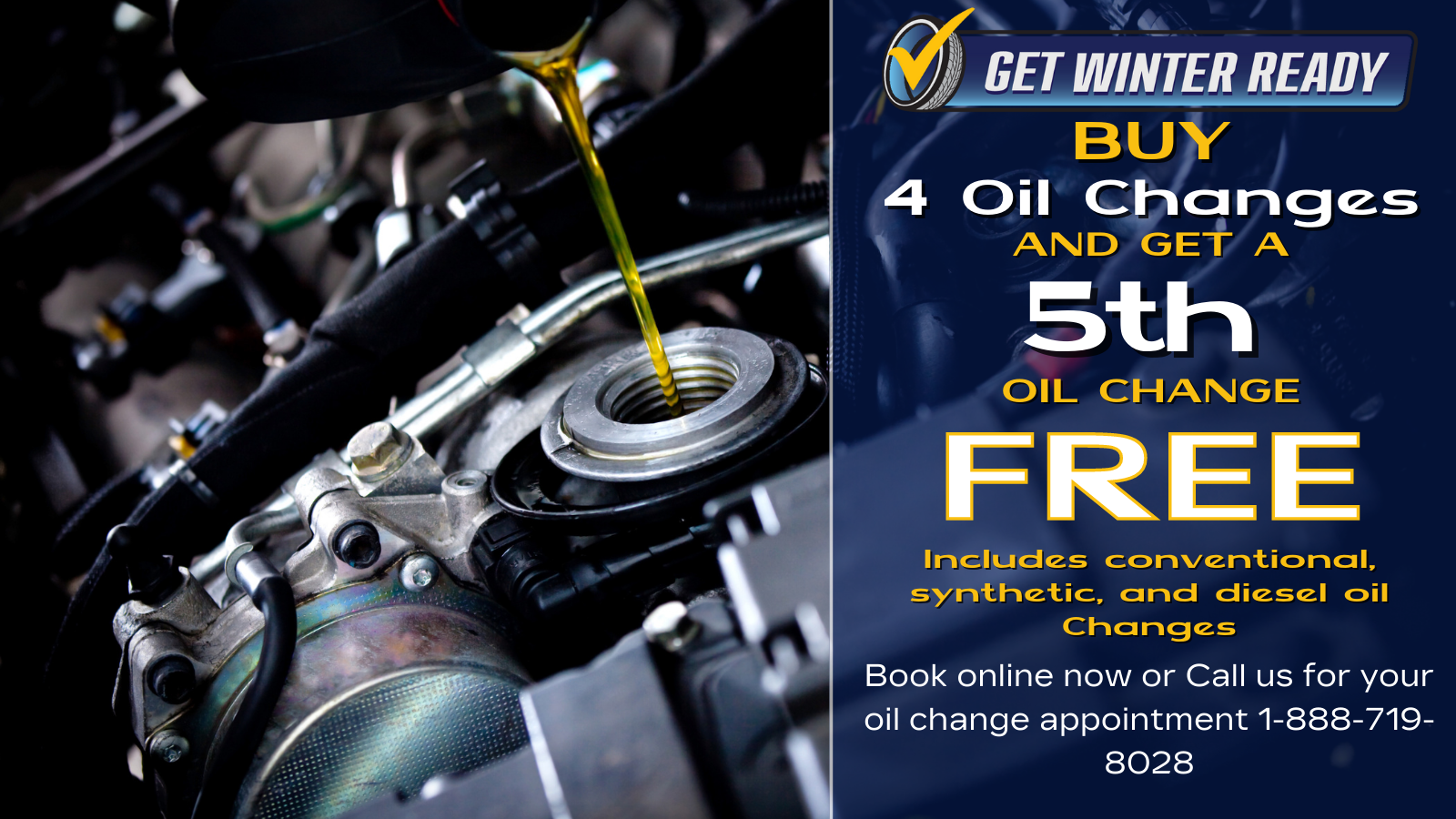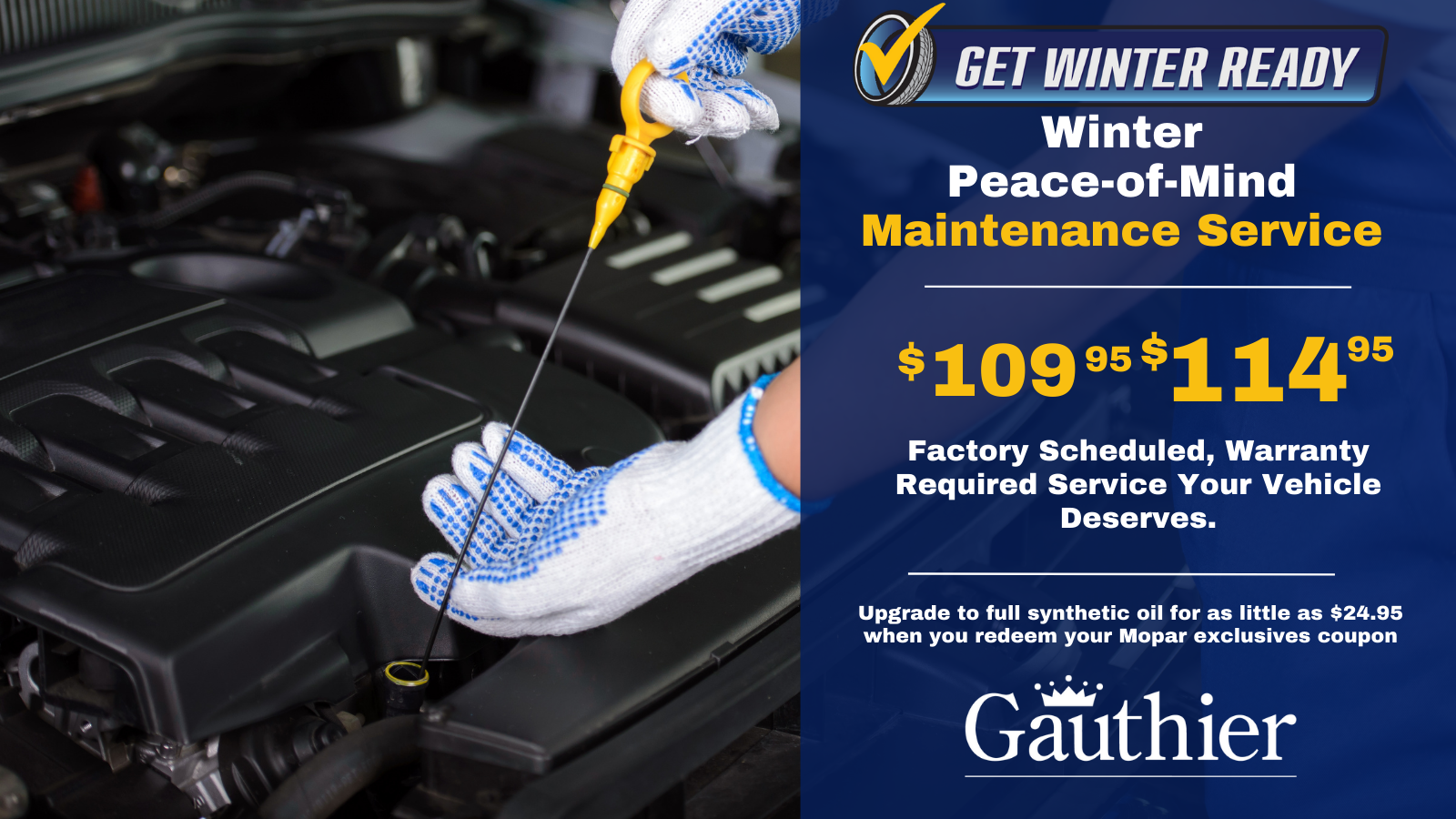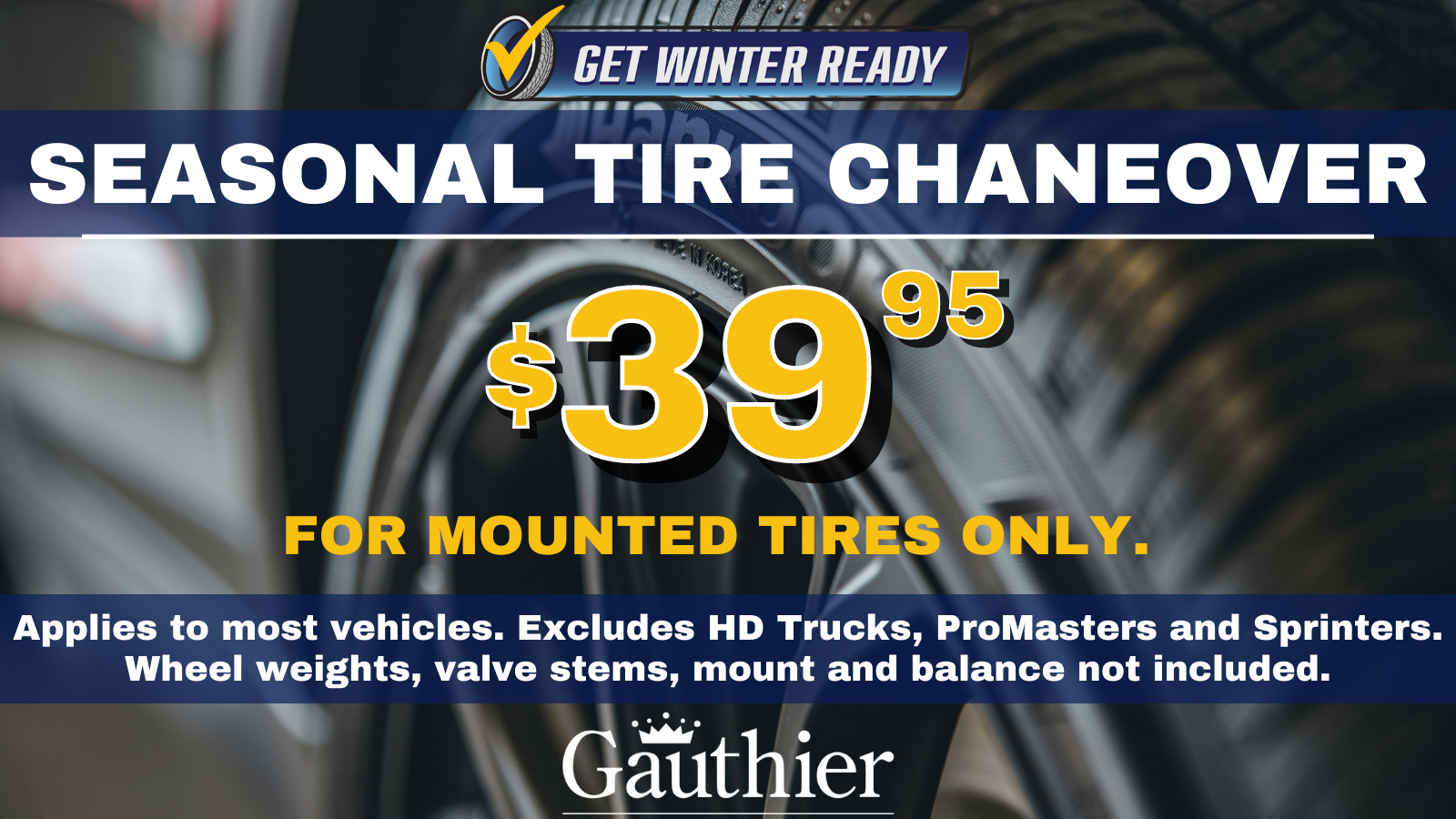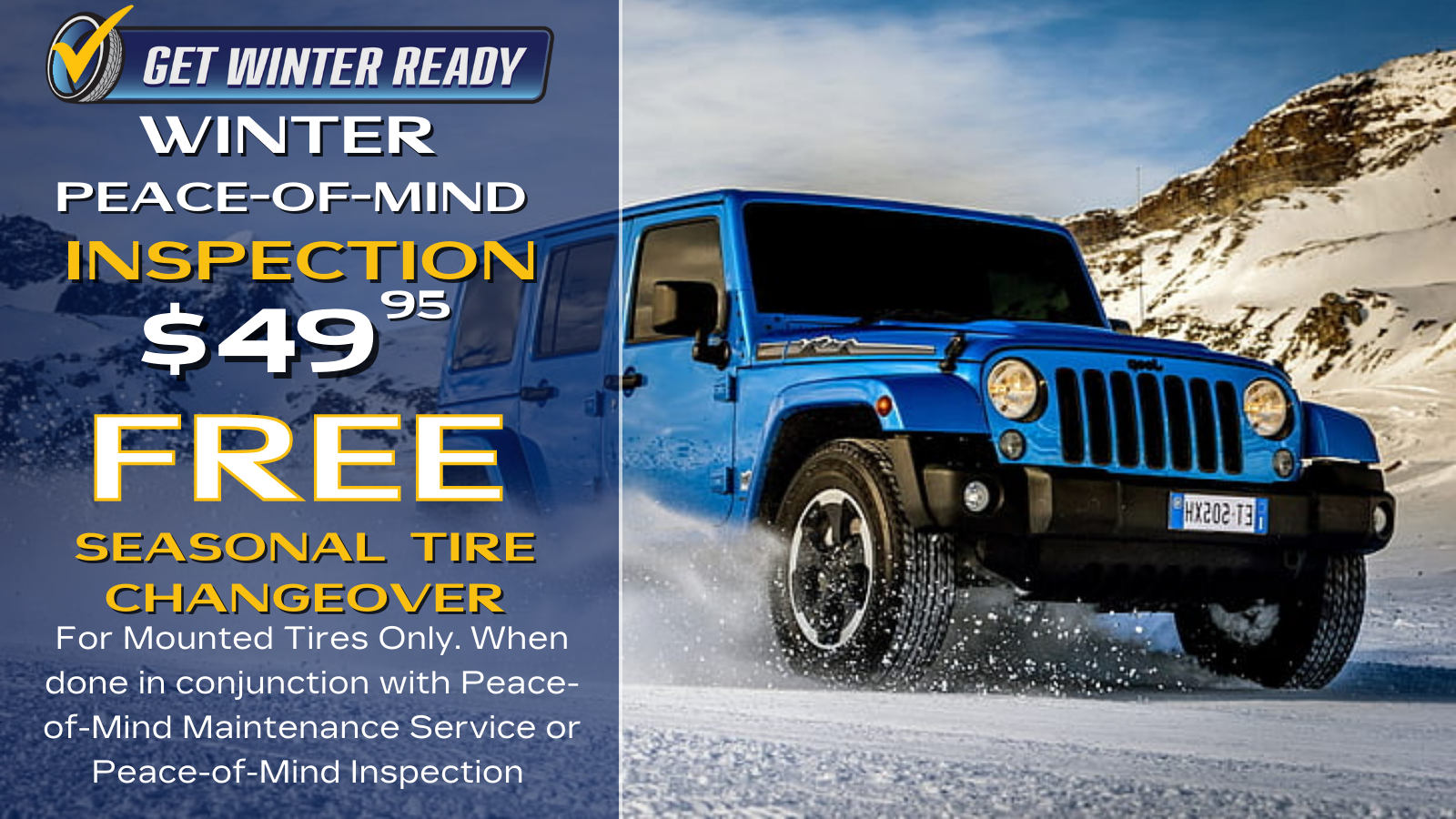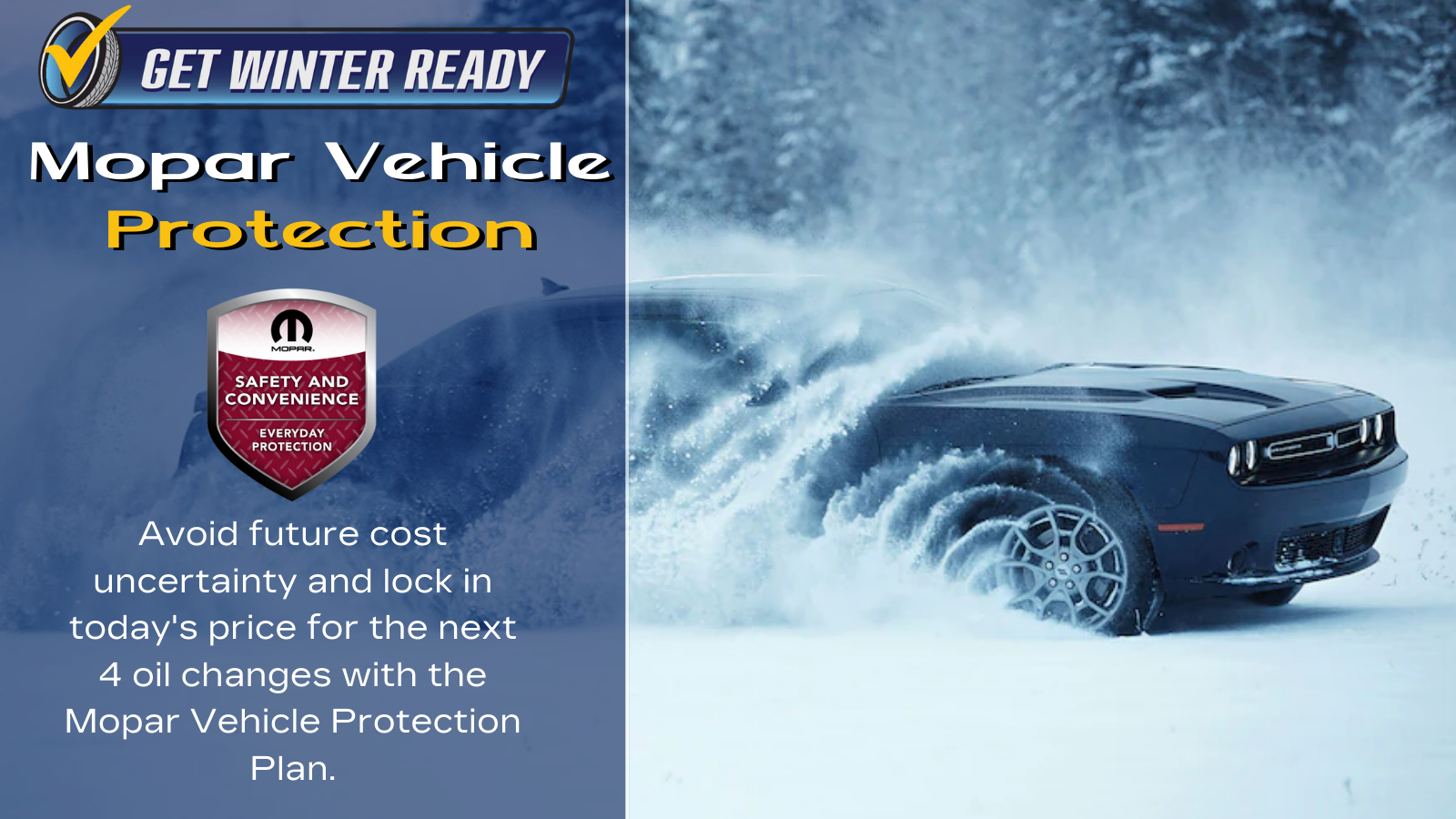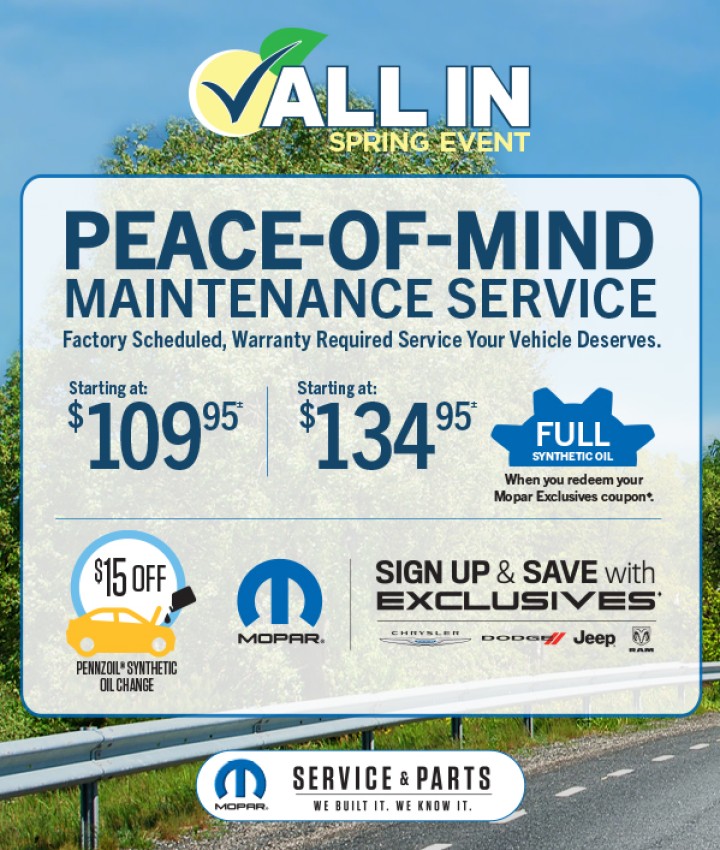 PEACE-OF-MIND MAINTENANCE SERVICE
$ 109.95±Upgrade to full synthetic oil for as little as $24.95 when you redeem your Mopar Exclusives Coupon
$ 114.95±Upgrade to full synthetic oil for as little as $24.95 when you redeem your Mopar Exclusives HEMI
Synthetic/Semi-Synthetic Oil Available at Additional Cost.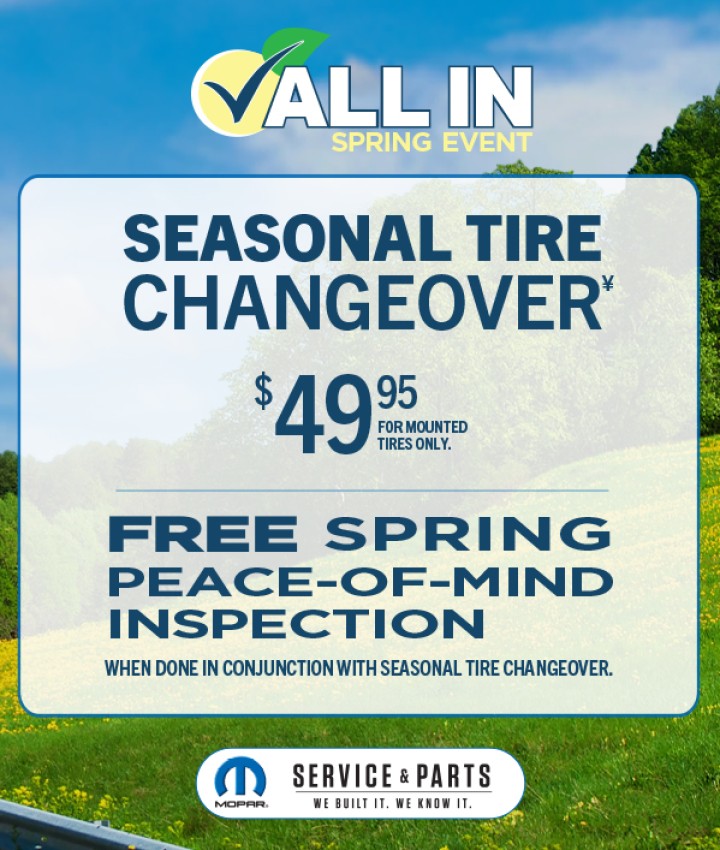 Winter Peace-Of-Mind Inspection
$49.95
Free Seasonal tire changeover
For Mounted Tires Only. When done in conjunction with Peace-of-Mind Maintenance Service or Peace-of-Mind Inspection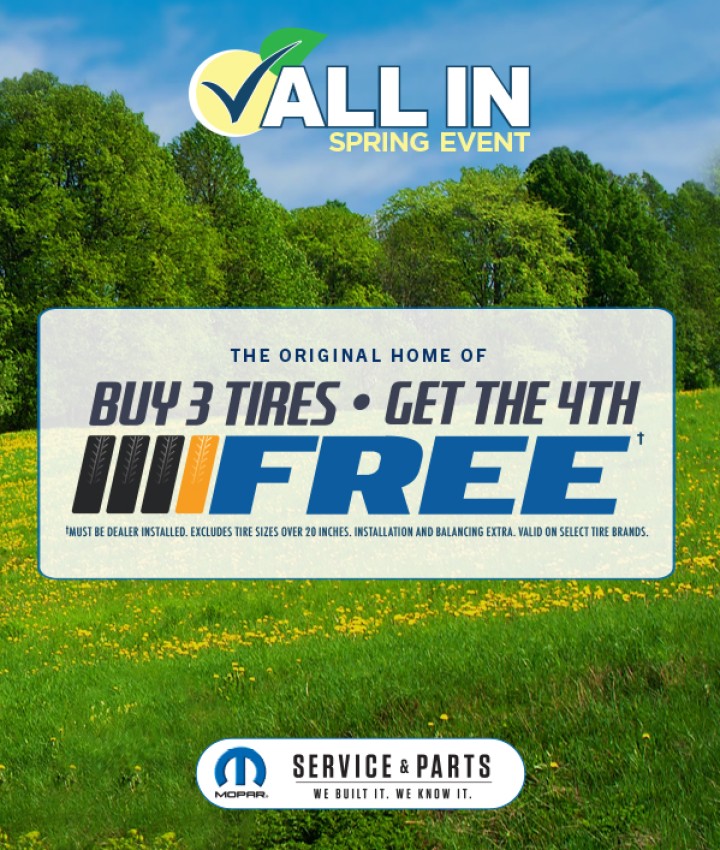 The Original Home Of
Buy 3 Tires Get 4th Tire FREE!
That means you get a full set of four tires for the price of three. All you have to do is bring in your vehicle, and we'll advise you on which type of tire best suits your vehicle and one that will match your price point.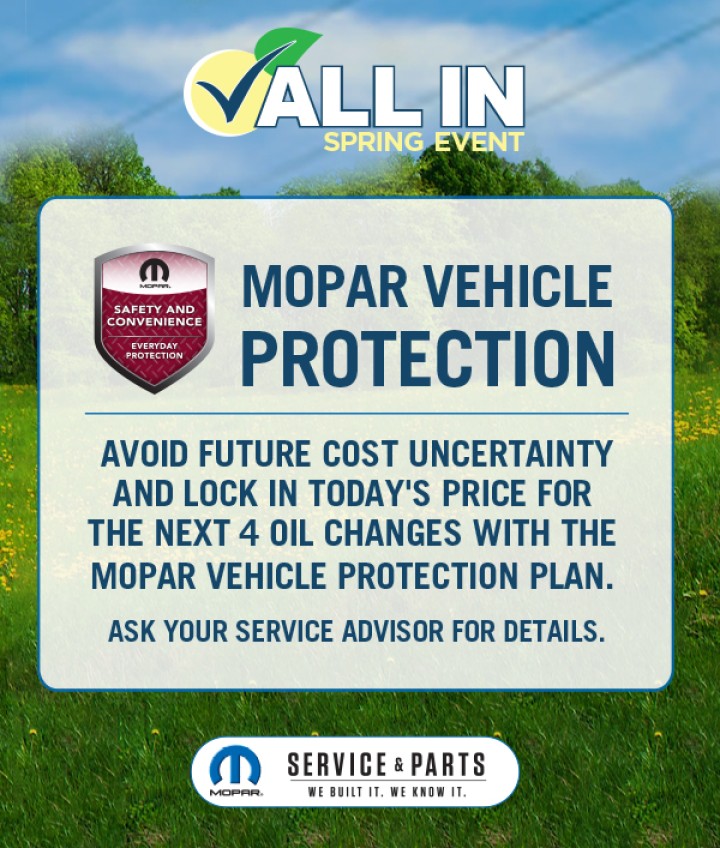 Mopar Vehicle Protection
Avoid future cost uncertainty and lock in today's price for the next 4 oil changes with the Mopar Vehicle Protection Plan.
Contact us by phone at (204) 663-6307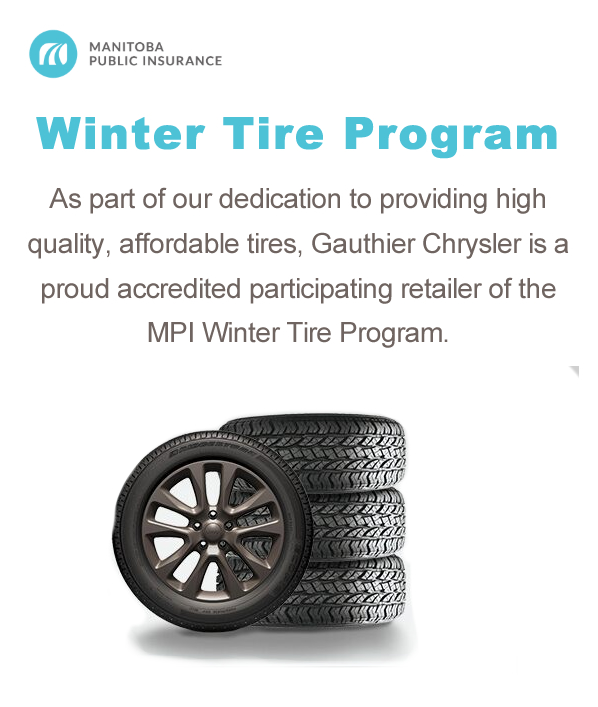 Winter Tire Program
Manitoba Public Insurance Is Helping Keep Drivers Safe On Winter Roads. Manitoba public insurance is providing low-interest financing to eligible Manitobans, for up to $2,000 per vehicle.
Get more information on Program qualifications, Processing and payments, Questions?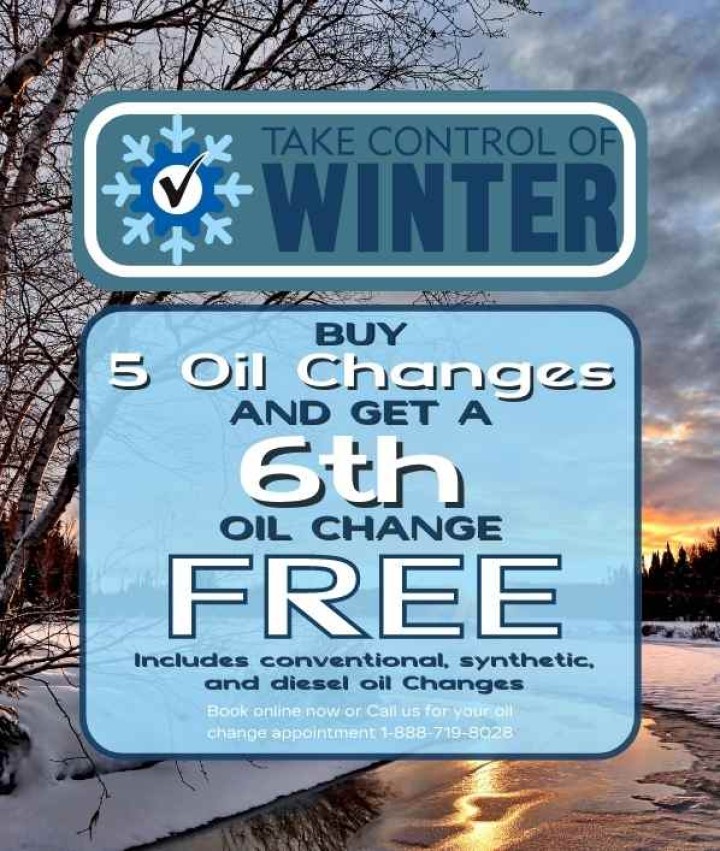 Customer-Preferred Tag
For Oil Changes.
The buy 4 oil changes and get the 5th free, includes all conventional, synthetic and diesel oil changes.
book online now or call us for your oil change appointment at
204-633-6307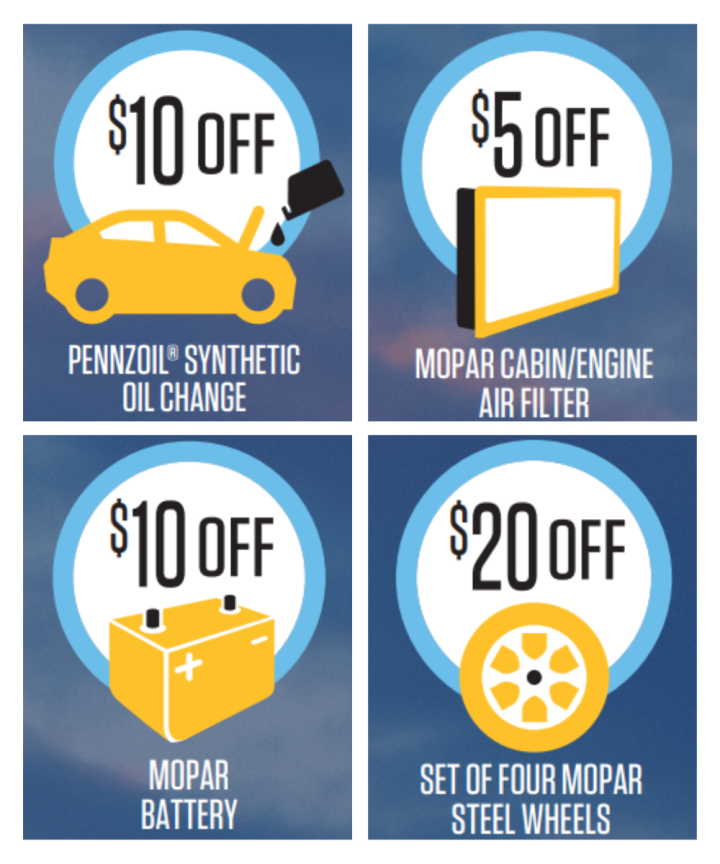 Sign Up and Save From Mopar
When you sign up for Mopar® coupons, you'll receive discounts, coupons and other vehicle information via email, or other means, from FCA Canada. Discount and coupons will come to you every three months and may be applied over and above the qualifying service offers available at your local Chrysler, Dodge, Jeep®, Ram and FIAT® retailer.

Gauthier Chrysler Dodge Jeep Ram carries most of All-Weather and All Season Tire Brands that fit all type of Cars, Trucks, Heavy Trucks, Minivan, SUV, and more. Our Tire Consultants are always available to give you advice on the different winter tires.
Brands: Bridgestone, Firestone, Michelin, GoodYear, Hankook, Yokohama, Pirelli, Dunlop, Mopar, and more.
Call us to speak to our Parts Advisers For more details. Get Savings Sent Right To Your Inbox
Get the coupons you see here sent straight to your inbox. New coupons will arrive every three months and can be applied over and above the qualifying service offers available at Gauthier Chrysler, Dodge, Jeep® and Ram dealership.
Using clear, easy-to-understand terminology, a Certified Service Consultant then walks you through the results so you know exactly what's going on with your vehicle.
Our Chrysler Dodge Jeep RAM and Mopar experts perform a Vehicle Health Check, as required by your Owner's Manual every 12,000 km. It's a comprehensive assessment of your vehicle that helps you protect yourself and your automotive investment. What the certified service experts look for during a vehicle health check:
Tire Wear
You trust your tires to keep you on the road, and us to make sure they're balanced, aligned and in excellent order.
Remaining engine oil life
Helpful when approaching your next oil change, this inspection determines the vehicle's remaining oil life percentage.
Brakes
The brake systems including lines, hoses parking brake and measurements of the front and rear linings are inspected.
Wiper blades and glass condition
To avoid possible damage, the windshield is inspected with the front and rear wiper blades, making sure they work when needed.
Additional vehicle inspections
This larger visual inspection makes sure the vehicles critical systems are in working order.
Free
multi-point courtesy

check-up
Sure, you can get an oil change anywhere, but what makes our oil change different is that we include a multi-point courtesy check-up. Plus, it's done by a factory-trained technician, and we only use Authentic Mopar® Parts.
Check Air Filter
Check and Adjust Tire Pressure
Check and Fill Coolant
Check and Fill Differential Fluid
Check and Fill Power Steering Fluid
Check and Fill Transmission Fluid
Check and Fill Windshield Fluid
Check Brakes
Check Brake and Reverse Lamps
Check Drive Belts and Hoses
Check Headlamps
Check Steering and Transmission
Check Tail Lamps
Check Tire Wear
Check Turn Signals
Check Wiper Blades
Test Battery
Vehicle Maintenance Videos
Your factory-trained Mopar certified technicians have you covered!
Gauthier Chrysler Dodge Jeep Ram certified technicians, equipped and qualified with the latest diagnostic and repair equipment, ensure you that your repairs are at minimal cost to you.
Watch the videos below to see a variety of auto repair and general car maintenance tips to save even more on your vehicle maintenance. A word from our

Service Manager
Here at Gauthier Chrysler Dodge Jeep Ram, we understand servicing your vehicle isn't the most the convenient thing to do, from finding time to get into making other arrangements for getting around. That's why we are open six days a week and offer services like an early bird dropbox, drive-thru service for drop off, shuttle service to and from the dealership along with a comfortable waiting area for you to relax in.
We also offer factory-trained FCA technicians in all areas of your vehicle no matter if it's a small car to a full-size diesel truck, along with dedicated quick lube technicians to get your basic maintenance needs addressed. Unlike other shops just because we carry the Chrysler Dodge Jeep Ram brand name doesn't mean we won't service an off-brand. We will service all makes all models of vehicles.
If you're currently one of our customers, I want to send you a big THANK YOU!
If your servicing elsewhere but not feeling like that company is giving you everything you need then give us a call or come on down and we'll be happy to help you out.
CHRIS WELBURN