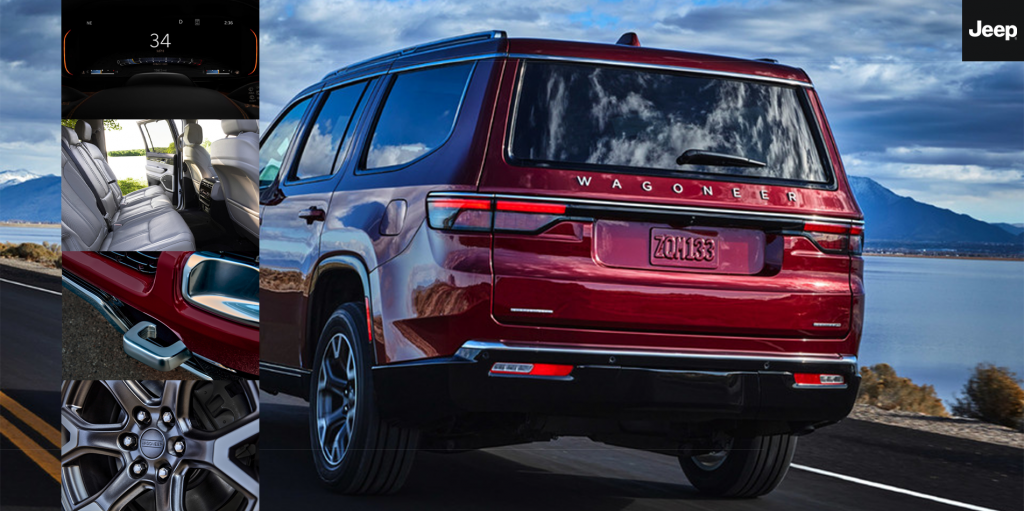 THE ALL NEW WAGONEER!
This year Jeep® has decided to give the widely acclaimed Wagoneer a long awaited release. By introducing the all new Jeep® Wagoneer & Grand Wagonner. The new luxurious Wagoneer provides a new refreshing experience for all. Starting from its beautifully designed exterior to the sleek and meticulously crafted interior. The new Wagoneer is a marvelous addition to the already extravagant Jeep SUV line up. Here at Gauthier Chrysler we have been granted access to the all new Wagoneer & Grand Wagoneer. We present you your first look at the new standard of luxury.
EXTERIOR
The all new extertior design is a refreshing modern take on the classic Jeep Wagoneer. This revamp gives the all new Wagoneer an all new modernized look that is destined to attract attention.
INTERIOR
The marvelous re-design proceeds to the interior, giving the all new Wagoneer one of the most luxurious interiors in its class. This beautiful Full-Size SUV offers three rows of spacious seating which can accommodate up to seven people. The second and third row comfortably seat a combined 5 people. Leaving the front row to occupy the remaining two passengers. Regardless of your seating position comfort and luxury has been kept in mind presenting all rows access to traditional functions as well as all new High End tech and first class safety features fitted within the all new Wagoneer & Grand Wagoneer.
SAFETY FEATURES
The safety features included are, Active Collision Avoidance, Active Lane Management System, Monitoring Surroundings and Conditions, Enhanced Driver Awareness, etc. Click the button below to find out more on the all new Wagoneer, here at Gauthier Chrysler.