WHAT'S NEW FOR 2021?
The Hellcat-powered Dodge Durango SRT is all-new for 2021! With a limited production year set for only 2021. This un-tamed cat has done nothing more than raise expectations for Mopar enthusiasts alike. Underneath its timid yet aggressive body lies a 707 Horsepower, 6.2L HEMI V8. Combined with Dodge's state-of-the-art AWD system, this fined tuned cat will launch its unsuspecting occupants from 0-60 in an unbelievable 3.5 seconds, whilst achieving a quarter-mile time of 12 seconds at a maximum of 14,600 RPM!
To match the exterior of the vehicle, Dodge has carefully crafted the Dodge Durango SRT Hellcat interior to make the occupant's experience as enjoyable to drive as to look at. With its plush, genuine leather "High bolster" sports seats, forged carbon fiber interior accents to the suede headliner. All areas of the interior have been carefully crafted with high-end materials that are elegant to the touch. Combing this with Dodge state of the art technology package which includes UConnect 5 Nav with a 10.1-inch display, blind-spot monitoring/rear cross-path detection, adaptive cruise control with stop and go, advanced brake assist, forward collision warning with active braking, lane departure warning with lane assist and a beautiful 19 speaker Harman/Kardon sound system with a subwoofer the Dodge Durango SRT Hellcat had been designed to ensure the most luxurious experience possible in its class.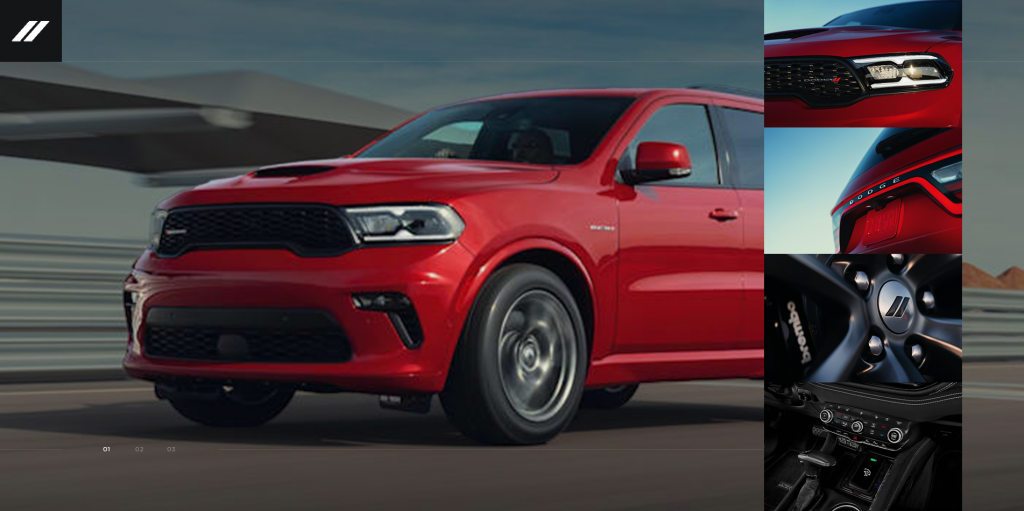 FOR THE FAMILY!
If high horsepower and performance are not for you, the Dodge Durango is offered in a multitude of trims, ranging from SXT, GT, Citadel, RT & Citadel Anodized Platinum. Whilst sharing a similar body and chassis to the Dodge Durango SRT Hellcat & 392, these specific models/trims bost a more modest and family-oriented experience. With a minor decrease in power and performance, each individual model is sure to leave the occupants taken away by the tremendous amount of stunning features specified within.