Here at Gauthier Chrysler we are having a
BOXING WEEK BLOW-OUT SALE!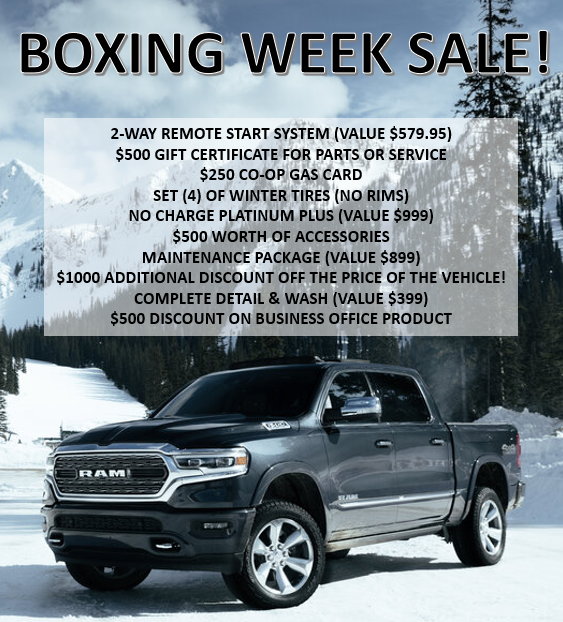 On top of our amazing year-end clearout promotions we are offering additional in store incentives!
For the week of December 28th 2020- Feb 1st 2021
Select one additional prize option to add to your deal! Prizes are combined able with FCA promotions!
List of prizes:
2-WAY REMOTE START SYSTEM (VALUE $579.95)
$500 GIFT CERTIFICATE FOR PARTS OR SERVICE
$250 CO-OP GAS CARD
SET (4) OF WINTER TIRES (NO RIMS)
NO CHARGE PLATINUM PLUS (VALUE $999)
$500 WORTH OF ACCESSORIES
MAINTENANCE PACKAGE (VALUE $899)
$1000 ADDITIONAL DISCOUNT OFF THE PRICE OF THE VEHICLE!
COMPLETE DETAIL & WASH (VALUE $399)
$500 DISCOUNT ON BUSINESS OFFICE PRODUCT
Select one prize with purchase of New Jeep, Dodge, Ram, or Chrysler vehicle.